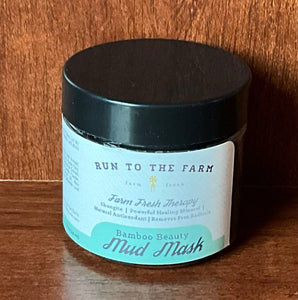 Bamboo Beauty Mud Mask
Our Bamboo Beauty Mud Mask was created with a very special metamorphic rock named Shungite. Shungite is a black and lustrous mineraloid that was first described from a deposit near Shungite village, in Karelia Russia. Shungite consists of nearly all the minerals on the periodic table. It is said that Shungite absorbs radiation, antiviral, antibacterial, antifungal, reduces inflammation, shields electromagnetic field (EMF) emissions, relieves stress, gets rid of any impurities, helps with acne, detoxifies and purifies the skin. Our Shungite mask will nourish your skin while adding antioxidants to combat free radicals. Simply said, the scientist discovered that Shungite receives its healing powers from one of its elements, fullerenes, a crystalline form of carbon believed to be the most powerful antioxidants that shield cells from the affect of free radicals. 
Directions: Add a thin or thick layer of your mask all over your face and neck while avoiding your eyes. Let dry for about 12 to 15 minutes. Rinse with water then add our Bamboo Beauty Facewash to remove all if the mask from your skin. Pat dry then follow up with our Bamboo Beauty Anti-Aging Serum. 
---